What comes to your mind if you think of volcanic eruptions? Definitely Jules Verne if I dwell on those two words. After all, who can forget the unbelievably creative universe of The Journey to the Center of  the Earth and how Prof Lidenbrock and his nephew shot across the sky thrown by the Stromboli volcano? (If you haven't read this awesome science fiction written way back in 1864, you sure are missing something!)
But real life volcanoes are neither so much fun nor picturesque. NASA scientists estimate that the volcano in the Yellowstone national park is overdue for an eruption. They are, of course, a decade or so behind the awesomely astute Hollywood director Roland Emmerich who directed the 2012 movie starring John Cusack. In the movie, the yellowstone volcano erupts magnificently and Cusack escapes with his family from there by some good ol' leg work (aka running) and escape in a helicopter.
But what Roland didn't know was NASA's insane yet brilliant plan to thwart this threat. They are considering drilling sideways holes at the base of the volcano and pumping water at high pressure and slowly extracting the heat.
Do you think that would work? Read on to see what Nina & Nana have to tell about all this!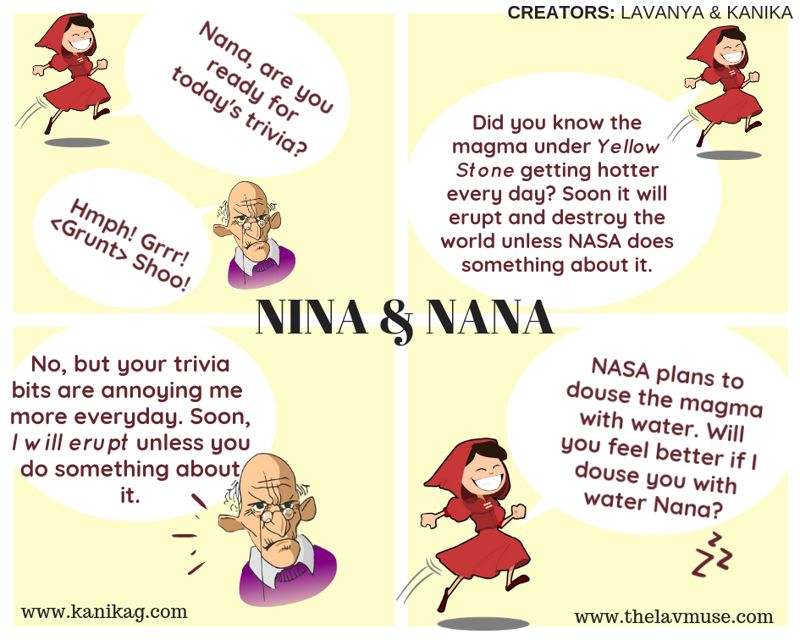 Read Kanika's take here.